---
---

rr, matey! Shiver my timbers!" Everybody "knows" this is how the typical pirate talked back in the Golden Age of Piracy, right? And just saying it out loud, who can resist squinting one eye and rolling the other to accompany that familiar growling tone and "pirate accent"? But how well do you know the actor who literally put the "Arr" in pirate?
It was Robert Newton in his colorful and groundbreaking performance as Long John Silver in 1950's Treasure Island, Walt Disney's first live-action feature film, who originated the distinctive vocal intonations and facial expressions that continue to pervade the popular conception of piracy over half a century later. The Disney company itself honored the tremendous impact he had on its success when, on March 14, 2002, he was officially inducted as a Disney Legend. At the Paris ceremony, Roy E. Disney acknowledged Newton's contribution to the company through the popularity of his characterization: "If Treasure Island had been a critical and commercial failure, then the studio would not have had a rich legacy of live-action movie gems. In short, Walt would have probably retreated back to animation." (And "Pirates of the Caribbean" would still be just a theme-park ride, if that!)
Much as Bela Lugosi defined the role of Dracula, in most people's minds, Newton defined the role of Long John Silver and, later, Blackbeard as well. As any good vampire caricature evokes Lugosi's Hungarian accent and inflection, Newton's swaggering interpretation of Robert Louis Stevenson's already-colorful dialogue is often unwittingly imitated when people attempt to conjure the mannerisms and vocal intonation of the stereotypical pirate. True, many real-life pirates did come from the West Country and thus likely spoke with that accent—with or without the growl—but I defy you to find an "arr," "harr," "yarr," or "arggghh" in Treasure Island or any other pirate film or literature before 1950. Until then, movie pirates sounded like Wallace Beery or Errol Flynn. (Click here to hear a RealAudio sound clip of Wallace Beery as Long John Silver or here for Errol Flynn in The Sea Hawk.)
In fact, Talk Like a Pirate Day, the international holiday invented by John Baur and Mark Summers and first publicized in 2002 by humor columnist Dave Barry, would hardly be what it is were it not for Robert Newton's unique contributions to pirate "arrrgot."
Even without seeing his performance, chances are you can easily imagine his delivery of memorable lines like the following: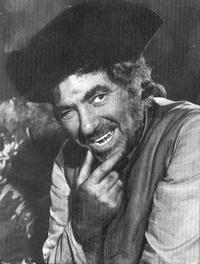 "Ar, fortune rides the shoulders of them what schemes."

"Shiver my timbers, a landlubber I'll never be."

"Now clear up them there shambles, or I'll feed you piecemeal to the rats in the cellar."

"Them that die'll be the lucky ones!" (Click on the link at left to hear how well you did! [requires RealPlayer])

(Click here for an extended.MP3 clip of Robert Newton as Long John [courtesy of Paul Anderson]).
One of Newton's greatest life-long imitators was colorful rock drummer Keith Moon, who not only resembled Newton physically, but whose life mimicked his hero's in many ways. Moon, in turn, was the inspiration for Muppet drummer Animal.
The brief entry on Robert Newton in the 1977 Filmgoer's Companion summed him up as a "star character actor with a rolling eye and a voice to match. A ham, but a succulent one."
The Illustrated Who's Who of the Cinema had this to offer:
He was always tempted to overact (most notably as Long John Silver in Treasure Island) and his fruity tones and rolling eyes made him an easy target for caricature, but in his earlier years, he was more amenable to control, and capable of considerable subtlety. In Jamaica Inn and Poison Pen he was modest and effective; Odd Man Out and Hatter's Castle allowed him to go a little over the top without damaging the film; and in Temptation Harbour, one of his few leads, he was very good indeed as the honest signalman corrupted by Simone Simon and a large haul of stolen money.
While Newton did have a natural inclination to ham it up when called for, his reputation for overacting seems to have resulted primarily from his roles as Long John Silver and, in particular, Blackbeard, which came late in his career. While later directors of his pirate films seemed either to encourage Newton to overact or simply not to give him any direction at all (according to Philip Leibfried, writing in Films in Review, "in RKO's Blackbeard the Pirate, Newton not only chewed the scenery but spat it out as well ... surely [director Raoul Walsh] was absent from the set"), in Treasure Island, his colorful characterization was intentional on the part of the filmmakers. In his book The Disney Films, Leonard Maltin explains:
Long John is a magnetic character; a completely unscrupulous man who remains in his most wicked moments totally beguiling, to Jim as well as to us. His sense of humor and irony almost never desert him, and it is the knowledge that his facade is not entirely phony that makes him so irresistible.

Treasure Island . . . belongs to Robert Newton, as Long John Silver. Rereading Stevenson, one finds that Newton is Long John, and the "hamminess" that many found overbearing in the performance is really as much [Robert Louis] Stevenson as it is Newton.
By his own admission, other than Stevenson, the person primarily responsible for allowing Newton to steal the show is Treasure Island director, Byron Haskins; Newton is guilty only of turning in a delightfully enthusiastic and original performance. In Haskins' own words,
In orchestrating the cast of thirty-six speaking parts, Long John was very near the top in flamboyant playing. I would rate the performances as, beginning with the least offensive, the doctor. He was the measuring stick by which the others were to be judged. On up the scale came the squire, etc. Handling such an unwieldy number was one of the greatest tasks of making the film. By the time Newton's manners were to be considered I could do little more than let him "rip," in the language of the period. I cast Ralph Truman in the role of George Merry, however, giving him full scope to out-ham Newton whenever he could. At times, Newton, by contrast, looked downright underplayed!

Anyhow, the film was a children's story, told by Stevenson to children. Kids don't go in much for subtleties.
Maltin concludes,
Indeed, Newton was so powerful as Long John that he found himself locked into the characterization, repeating it for Haskin in an Australian-filmed feature, Long John Silver, a TV series of the same name, and similar roles such as the title part in Blackbeard the Pirate. Newton's trouping may have been ham, but his performance remains in the memory long after everything else about the film has been forgotten.
Newton had already played several screen villains before being cast as Long John Silver. In 1941, he played a mad hatter/domineering father in Hatter's Castle. And that same year, he received accolades in the role of a ruffian whose soul is targeted for redemption by an idealistic Salvation Army worker in Major Barbara. Reviewer Lionel Collier called his performance in Major Barbara "magnificent," adding that it was "the keystone of [director Gabriel] Pascal's faithful adaptation of Shaw's play." "Magnificent" is also how costar James Mason described him in Hatter's Castle, adding that he "carried the show." His 1948 performance as the sinister Bill Sikes in Oliver Twist is probably his second best remembered role today. His Sikes had a depth not found in either Dickens' book or Oliver Reed's portrayal in Oliver!
Like many of the best-loved screen villains, the real Newton was quite the opposite of the dastardly characters he portrayed so memorably—and perhaps the conflict with the actor's real personality is one of the things that made them so compelling. In discussing the making of Major Barbara, in which a pivotal scene involves his brutal treatment of her, Deborah Kerr's biographer Eric Braun points out that "the gentle Newton [was] consistently, and with brilliant success, cast against type."
Referring to Blackbeard the Pirate, in 1954 Newton told an interviewer that, although he was tired of playing villains, "I like to do that sort of part now and then." In fact, the idea and inspiration to continue the adventures of Long John Silver "for kids of every age," as he put it, in both the Treasure Island sequel and television series came from Newton himself.
With such larger-than-life performances in mind, some fans might have difficulty recognizing him as the fresh-faced romantic hero he had played so believably back in 1939, Jem Trehearne Jamaica Inn, based on Daphne du Maurier's novel of the same name about a band of 19th-century Cornish smugglers.
The book became a classic, which du Maurier once said greatly enhanced Cornwall's tourism industry (and ironically reduced the very remoteness of the beautiful landscape she had described so vividly). However, the film version made Harry Medved and Randy Dreyfuss's original list of the Fifty Worst Films of All Time, the only such distinction given to an Alfred Hitchcock film. The script departed drastically from the original storyline, minimizing, expanding, and combining major characters and altering the plot almost beyond recognition. Du Maurier denounced the film, and even Hitchcock dissociated himself from it as much as possible. But a primary reason many critics panned it was the overacting by its star—not Robert Newton, but Charles Laughton.
As Medved and Dreyfuss put it, "No one who sees this film could doubt that the self-indulgent star, and not the director, was in control, and a glance at the credits confirms that impression. Producer of this epic was Mayflower Productions—Charles Laughton's very own company."
Newton had recently appeared with Laughton in 1938 in another Mayflower film, Vessel of Wrath (a.k.a. The Beachcomber), based on the short story by Somerset Maugham, in a supporting role as the sensible and dashing Controlleur of the tropical island upon which incorrigible beach bum "Ginger Ted" (Laughton) makes his home. However, in Muriel Box's 1954 remake, The Beachcomber, Newton made the title role his own. Another romantic lead, albeit an off-beat one, the character of Ted is a lazy but charming lush whose soul (like that of Bill Walker in Major Barbara) is targeted for salvation by a prim missionary. (Newton got to save a few souls himself as the fearsome warrior-turned-persecuted-Christian, Ferrovius, in the 1952 adaptation of Shaw's comedy Androcles and the Lion.)
If director William Wyler had had his way, Robert Newton would have played another classic romantic lead: Heathcliff in 1939's Wuthering Heights. However, producer Sam Goldwyn resisted casting him because he found Newton unattractive, and the role ultimately went to Goldwyn's first choice, Laurence Olivier.
Goldwyn's personal taste notwithstanding, Newton went on in 1941 to play romantic charmer Jim Mollison, the handsome playboy husband of real-life record-setting WWII pilot Amy Johnson in They Flew Alone (released in the U.S. as Wings and the Woman). And in 1946's Night Boat to Dublin, he seemed perfectly cast as a classic leading man in the James Bond mold—a witty, brave, and authoritative British Intelligence officer leading the search for a scientist on the verge of developing the atomic bomb for the Nazis, at the same time finding himself romantically involved with an Austrian asylum seeker when he goes undercover as an office clerk. Today the film is difficult to find, likely owing to its excessively convoluted plot, but in 1944 and 1949 respectively, Newton played two other leads that remain among his most popular and critically acclaimed films today: Noël Coward's This Happy Breed (directed by David Lean) and Obsession (released in the U.S. as The Hidden Room). While in This Happy Breed, he embodied a gentle, wise, steadfast World War I veteran and family patriarch, in Obsession, he was a suave, intellectual villain—a slick-yet-sick psychiatrist bent on an unusual revenge when he catches his unrepentant wife in an affair with another man.
Convincing as he could be in such roles, Newton did find romantic leads limiting. He once told an interviewer, "A character man can overact, ham it up, attract attention to himself without suffering too much criticism. If a leading man tried to tackle the character stuff, it might ruin him. Besides, I like character portrayals."
He also had a particular fondness for Shakespearean roles (though, alas, his only Shakespearean performance to be immortalized on film was as the entertainingly comic Pistol in Olivier's Henry V). Even offstage, he often entertained bystanders with impromptu Shakespeare recitations, and during the filming of 1954's The Beachcomber, costar Donald Sinden (taking over Newton's earlier role as the Controlleur) recounted being treated to "the most thrilling rendering I have ever heard of 'Now is the winter of our discontent made glorious summer ...'," adding "What a Richard III he would have been!"
Whether playing the villain, romantic hero, or colorful misfit, Robert Newton held lead or near-lead billing in many of his films well before Long John Silver came along, reaching the height of his popularity in the late 1940s and early '50s. In 1947, he was the No. 3 box-office attraction in Britain. The value of his name on a marquee was so great that, for example, in 1948's Snowbound and 1947's Carol Reed masterpiece starring James Mason, Odd Man Out, in which he played an off-beat alcoholic artist, he was first- and second-billed, respectively, even though both roles come so late in the film as to render them virtually cameos.
Yet, some of Newton's best performances were still to come after he made his indelible mark on movie piracy. In 1953's The Desert Rats, he gave an exceptionally subtle and touching performance as Private Tom Bartlett, a former teacher whose drinking problem masks a struggle with cowardice, now serving in WWII Africa under the command of his former student (Richard Burton). And in 1951 he turned in one of his most complex performances as Dr. Arnold in Tom Brown's Schooldays, this time gently educating rather than terrorizing the title character (John Howard Davies, who had recently appeared with Newton as Oliver Twist and went on as an adult to produce and direct several episodes of Monty Python's Flying Circus). In his final role, Newton left another lasting impression in Mike Todd's Oscar-winning Around the World in 80 Days as the humorously inept villain, Detective Inspector Fix. The cartoon version of Mr. Fix in the 1972 Rankin/Bass Around the World in 80 Days children's series was a clear nod to Robert Newton, sounding even more like his Long John Silver than he looked like his version of the hapless detective.
Cartoon caricature of Robert Newton as Inspector Fix in end credits of 1956's Around the World in 80 Days

Fix tricks Passepartout in 1972's Rankin-Bass version of

Around the World in 80 Days

(click

here

to hear the vocal similarity; requires RealPlayer)